About the VetMed LIVE Series
drip.vet and CriticalCareDVM.com want to make sure your access to high-quality continuing education is not a pain point for you! We've partnered to bring you a LIVE webinar series that covers some of the most common emergency scenarios encountered in daily practice. Our goal is simple: we want you to have the practical information you need to help you accurately diagnose and treat your patients.
RACE-Approved VetMed LIVE Series: Practical CE for Veterinarians Around the Globe
1 RACE-approved hour of CE per webinar
Individual webinars $15 each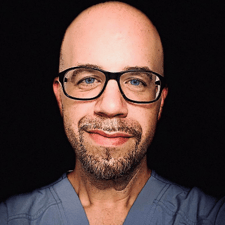 Presented by Christopher G. Byers
DVM, DACVECC, DACVIM (SAIM), CVJ
Dr. Byers is a practicing board-certified veterinary emergency & critical care and small animal internal medicine specialist based in Omaha, Nebraska. He is also the founder and editor-in-chief of CriticalCareDVM.com, an online community dedicated to educating pet owners and promoting the triad of care.
WEBINAR SCHEDULE
All webinars start at 7 p.m. Central time
19 Jan 2021

Localizing Dyspnea - Taking the Distress Out of Respiratory Diseases (Completed)

16 Feb 2021

Acute Abdomen - A Practical Approach to Diagnosis & Management (Completed)

16 Mar 2021

Feline Urethral Obstruction - A Criticalist's Approach to a Common Problem (Completed)

20 Apr 2021

Shock - Recognition & Interventions for a Common Clinical Problem (Completed)

18 May 2021

ITP - Immune Thrombocytopenia: Diagnosis & Management (Completed)

22 Jun 2021

Traumatic Brain Injury (Completed)

20 Jul 2021

Acute Pancreatitis - A Criticalist's Approach to Diagnosis & Management (Completed)

17 Aug 2021

Cardiac Emergencies - A Criticalist's Approach to Common Heart Emergencies (Completed)

14 Sep 2021

Feline Hypotension - A Logical Approach to Treating Low Blood Pressure (Completed)

19 Oct 2021

IMHA - A Practical Approach to Diagnosis & Management (Completed)